Oct 11, 2017 at 4:38p ET
Antonio Cromartie joins Skip Bayless and Shannon Sharpe to discuss his take on the anthem protests in the NFL.
Show Transcript
Hide Transcript
– I kneeled twice that year. I kneeled– I didn't kneel during 9/11. When we played the game on 9/11, I didn't kneel. But I did come in and kneel– I think it was week three and four I did kneel.
But like I said, I talked to my wife, I prayed about it. It was something that was near and dear to my heart, because I got six young men, six young boys that's growing up that's black. At the end of the day, like we got to understand like– when Colin started it, he sat down. And then when he met with a war veteran, and he said, I would for you take a knee to show–
INTERVIEWER: Nate Boyer was the guy that he met with.
– I would rather for you to take a knee than to sit down. I think that you sitting down is more disrespectful than you taking a knee.
And I think the message is getting lost in what we're kneeling for. The kneeling is for police brutality, social and racial injustice. And it's just like we're losing that because of what the president said, of what– you know, it's like we're getting distracted from the real reason why we're kneeling, and we're getting distracted from other things that's going on an Earth, like gun control, Puerto Rico, and everything else. And we're making a big deal about this, right here, and about disrespecting the flag.
What's disrespectful to our flag is when we come out every day for the national anthem you holding it horizontal and flat. That's disrespectful. And you know, to understand that, we have to talk to the guys that's taking a knee.
Like I took a knee, and I felt like I was fired because I took a knee. They said it was because of my play, but you look at my stats, I gave up 44.5 yards a game in four games, and one touchdown and that was on a one yard slant to Allen Robertson in the London game, which I took a knee in that game also. So you know, I just feel that, yeah, I got cut because I took a knee.
INTERVIEWER: Do you think that's still operating as to why you don't have a job now?
– I think some of it is. I think some teams are afraid just because, well, I'm a veteran guy and I'm an outspoken guy. And I think that may steer them away from a standpoint of saying, OK, we don't want this guy coming in the locker room and may be deferring our guys to taking a knee.
It's not me. I'm not going to tell a guy to take a knee. This is my own judgment. This is something that I have a belief in, that I feel strongly about.
I mean, I grew up in a single parent home. I grew in the projects. I moved 14 times. I went to 11 different schools. So I understand it. I've seen the epidemic of guys going into drugs or getting killed in front of my face. You know, it's just a part of– it depends on how you grew up.
And I'm not going to forget where I came from. It doesn't matter how much money I have. It doesn't matter where I'm at. My obligation is still to be a man of my word and be there for my community, and that's the black community. And I think that's what we're losing the insight on of what's really going on in America, and what we're fighting for and why we're taking a knee.
More Undisputed Videos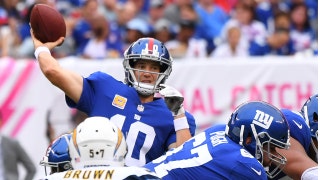 Skip Bayless explains how Eli Manning's accuracy issues have put the Giants in a tough position
1 hr ago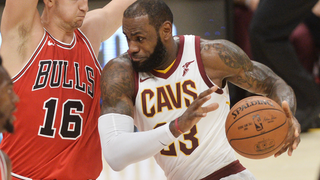 Skip Bayless reacts to LeBron James preseason debut
2 hours ago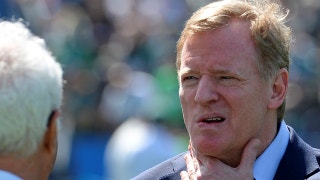 Shannon Sharpe discusses Roger Goodell's anthem memo to NFL teams
2 hours ago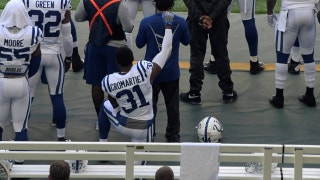 Antonio Cromartie: 'The message of what we're kneeling for is getting lost'
2 hours ago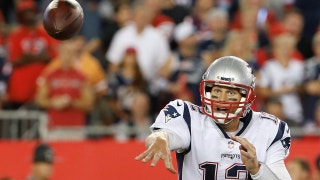 Should the Patriots be worried about Tom Brady's durability?
2 hours ago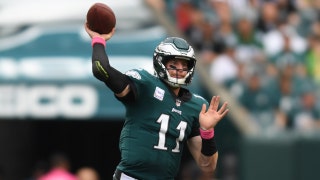 Shannon Sharpe believes Carson Wentz is better than Dak Prescott, Skip Bayless disagrees
1 day ago
More Undisputed Videos
»